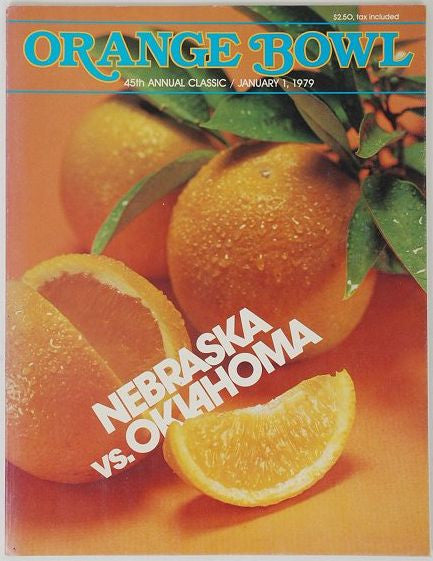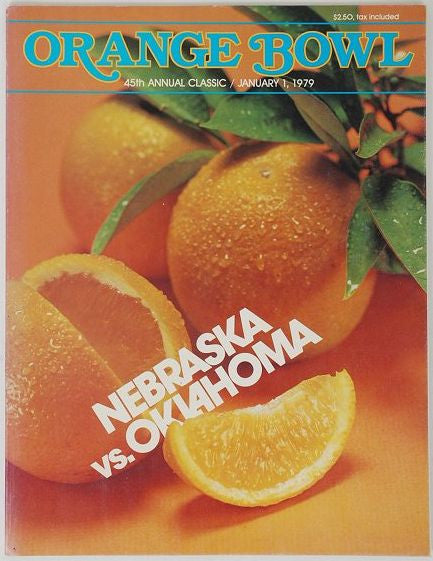 An original 1979 Orange Bowl Program. Excellent condition!! The game pitted the Nebraska Cornhuskers against Oklahoma Sooners in a rare rematch of two conference foes that had already played during the regular season. Nebraska had upset #1 ranked Oklahoma 17-14 on Nov. 11 in Lincoln, Nebraska. The Sooners got their revenge and upended the Cornhuskers 31-24!! The program is complete and in amazing condition. Spine is firm and tight with no tears. The inside contents are clean with no stains, marks or tears.

Oklahoma's team featured: All-Americans: Billy Sims, Daryl Hunt, Reggie Kinlaw, and Greg Roberts. Future All-Americans: Louis Oubre, George Cumby, and Terry Crouch. As well as: Thomas Lott, Phil Tabor, David Overstreet, J.C. Watts (future US Congressman), Kenny King, Victor Hicks, Mike Babb, and Kent Bradford (father of Heisman Trophy winner Sam Bradford).

Most items are shipped via USPS Priority Mail the next business day.  Items weighing more than 4 pounds may be shipped via USPS Priority Mail, USPS Parcel Select, or FedEx Ground depending on transit time and cost.  Shipping rates are based on size, value, and weight of the item purchased.  Shipping starts at $5.00.